Las Vegas will always be a popular destination. The city recorded 3.49 million visitors last July, its highest number in two years. It's the Entertainment Capital of the World, so people naturally want to visit from around the world. Las Vegas has everything you could dream of: great food, fun games, poker, and other exciting casino experiences. With all the fantastic attractions and options, here are some that you definitely must see when you're in Vegas:
Tourist Spots:
The Strip:
The Strip is a section of Las Vegas Boulevard famous for its gaming experiences. It's lined with several casinos, including The Venetian and Caesar's. Aside from entertainment and exquisite food, it has one of the best poker rooms in Las Vegas.
It's the biggest card room in the city, with 35 tables and a large convention center for major events like the DeepStack Championship Poker Series, which has monthly runs. Another casino to seek out is Luxor Hotel and Casino, popular for its striking pyramid architecture and sportsbook that shows off plasma TVs and individual seats with monitors for your comfort.
Downtown Container Park:
If you're a foodie and a shopaholic, you'll love Downtown Container Park. It has over 40 shipping containers transformed into shops, restaurants, and other entertainment venues to fulfill your hunger and shopping spree needs. Whatever you crave, you will most likely find it here!
If you come after sunset, expect to be amazed by the ever-changing evening entertainment lineup of performers. One thing to look out for is the Praying Mantis awakening ceremony, complete with a drum circle and flame effects.
Las Vegas Motor Speedway: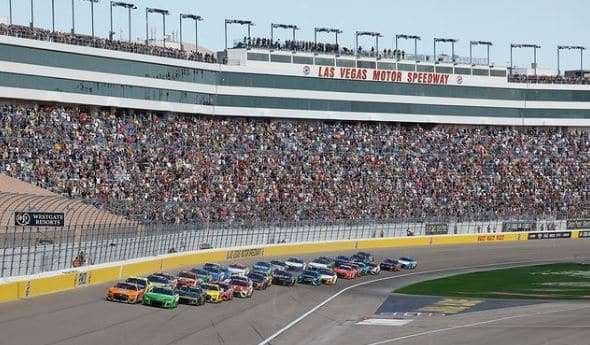 No car enthusiast will leave the Las Vegas Motor Speedway unsatisfied. It's a complex with multiple racing tracks for your viewing pleasure and racecar driver dreams. This speedway is home to the NASCAR races and other major racing events you'll surely enjoy.
If you've ever wanted to be a racecar driver, rent a Ferrari or Lamborghini and drive to your heart's desire along one of the racetracks. You can even camp in an RV if you want to stay the night!
Hidden gems:
Akhob:
Akhob in Las Vegas is an immersive installation gallery by the artist James Turrell. The Egyptian word 'akhob' means pure water. This gallery is hidden on Louis Vuitton's fourth floor in The Shops at Crystals. It exhibits chambers filled with ever-changing soothing colors—quite literally a hidden gem. Remember to make a call because they only accept reservations!
Seven Magic Mountains:
Just a few minutes south of the city is another colorful sight. Art lovers and outdoor enthusiasts must visit the Seven Magic Mountains. It's an art display of seven stacks of boulders by the Swiss artist Ugo Rondinone. Featuring painted rocks stacked by humans while the mountains serve as its background, the exhibit shows the symbolism between the natural and artificial worlds. It's open 24/7, so you're free to come and go anytime!
Secret Pizza:
Did you know that an unassuming pizzeria is hidden in The Cosmopolitan? Secret Pizza is hidden down a narrow hallway of the hotel, a real ace up the sleeve. The place is decorated with vintage albums—perfect for selfies and aesthetic Instagram photos. Not to mention, it serves great pizza and drinks! It's open until 4 am, so head to Secret Pizza for a midnight snack after shopping or gaming.

There's a lot to see in Las Vegas, but don't miss these. Take note of our suggestions for your upcoming trip! If you liked this article, read more of our Travel content here.