If the mere notion of adventure gets you thrilled and you're always searching for new sports to explore, then paragliding in Manali is for you. Manali, located in the Kullu region of Himachal Pradesh's northern state, offers a beautiful vista of the Himalayan snow-capped Pir Panjal and Dhauladhar peaks. When you arrive in Manali, you'll be greeted with tall pine and eucalyptus trees, rushing streams, and meadows with brightly colored flowers.
Manali is also a haven for adventurers. In their glide from 2050 meters above sea level, the gliders are treated to a breathtaking panorama and a clean environment. Throughout the year, hikers and trekkers come to Manali to experience the Beas Kund walk and the Bhrigu Lake Trek. Manali served as the beginning point for an early trade route to Ladakh, which crossed through the Karakoram Pass and connected to the Tarim Basin.
Historians come to the town because of the Naggar castle. Manali is also a photographer's paradise! Another lovely village near Manali, Solang Valley, provides a variety of adventurous sports such as zorbing and horseback riding. It is also a popular skiing location for thrill-seekers. But that is all Manali has to offer. Paragliding in Manali, on the other hand, is a once-in-a-lifetime opportunity that you must take advantage of.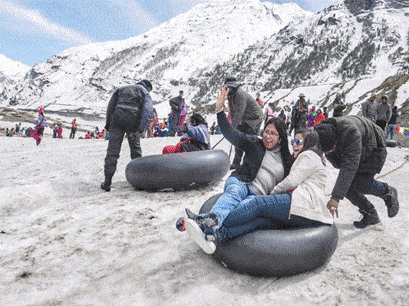 Kullu Manali paragliding:
Paragliding is popular in the highland town of Manali. With its lovely green valleys, stark blue sky, and snow-capped mountain peaks, it is the ideal environment for the sport at 2050 meters above sea level. The operators are highly organized, knowledgeable, and trustworthy, having completed a basic training course.
Long/high flights run between 40 minutes and 1 hour, whereas medium flights last 15 minutes. Solo flights are available to those with a paragliding license, while tandem flights are available to amateurs, in which a pilot accompanies the individual and navigates the glider.
Paragliding spots in Manali:
1. Solang Valley:
It is located 11 kilometers from Manali near Rohtang Pass, is the most popular place for tandem and solo flying. From this location, the views of the valley, apple orchards, and snow-capped hills are simply magnificent. Make sure the operator organizes transportation to and from the launch point when booking a paragliding vacation in Solang. The only means to get to the region is by ropeway, which costs an extra INR 1500–2000.
2. Dobhi, Naggar:
Fly from Falayn to Naggar in 15 minutes and fly over the Dobhi Valley, which blooms in the springtime. Drive to Dobhi in Naggar and participate in an informative lecture before flying above the skies. At this location, only tandem paragliding is available.
3. Burua-Shanag:
 One of the newest paragliding destinations, the area is still largely unknown, resulting in a lower visitor influx. Burua is therefore perfect for those seeking less congested paragliding destinations.
4. Taleti Kharal Valley:
Beginning in Taleti Valley and ending in Talogi Valley after 20 minutes, this paragliding ride gives one of Manali's most magnificent vistas. Manali is roughly 40 kilometers from Talati.
5. Marhi:
This is one of the oldest paragliding locations, located 33 kilometers from Manali and allowing both high and lengthy flights.
When is the best time to paraglide in Manali?
In Manali, the summer months of April and June are perfect for paragliding. The weather is perfect, with temperatures ranging from 10 to 25 degrees Celsius. The months of October through December are other wonderful choices but bear in mind that this is the off-season, and the weather may not be as pleasant as it is during the summer. During the monsoon season, paragliding is not authorized.
Required Time:
The first minute of a paragliding ride is free. Beginners should choose the tandem ride. The longest journey takes 60 minutes. The average travel takes 20 minutes. The 1-minute option includes a drop and a descent and is not recommended due to the little distance traveled. Beginners should do a 15-minutes high flight, while experienced gliders should take a longer trip.
Safety Advice:
1. Before paragliding, adopt suitable footwear and thermal gear. Sunglasses that reflect light are also advised.
2. Some launch places may include a trek, so plan accordingly.
3. The weight restriction for paragliding is 110 kilograms per person (including luggage).
4. Children under the age of 12 are not permitted to participate.
5. Because paragliding is an adventurous sport, it's important to understand all of the hazards involved. People with heart or lung problems, sinus problems, ear infections, motion sickness, and pregnant women should avoid it.
6. In the event of inclement weather, the sport is canceled. Before going on a journey, check with the local meteorological authority.
Also, read about Kashmir